Since 2017, Reem has fully immersed herself into the study of consciousness and manifestation with teachers like Joe Dispenza, Ibrahim Jaffe, Gregg Braden and more. Putting the principles she learned into practice, she has built an app for prayer and meditation called Pantagea; written two books and hosted a weekly podcast, NuDreem with Reem. She's also the mother of three girls.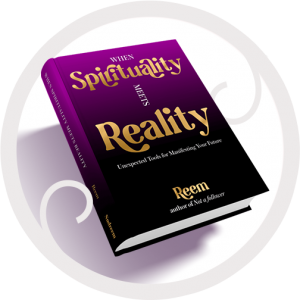 When Spirituality Meets Reality
When Spirituality Meets Reality is a thought-provoking and light-hearted guide for living with greater joy, presence and possibility as you create the life you desire.
Based on episodes of her popular podcast, "NuDreem with Reem", Reem's book is geared to those who are interested in personal growth and the Law of Attraction, and includes her humorous, moving personal stories that show spiritual principles at work in everyday life.
In this easy-to-read, 120-page book, Reem inspires readers to:
• Raise your vibe, no matter what's happening around you
• Harness the transformational power of forgiveness
• Place your order with the Universe with a powerful list
• Shift your energy to love, even with the most challenging people
When Spirituality Meets Reality is available on Amazon. Reem, a warm and inspiring presenter, is available to speak in person or online about the book and these powerful, life-changing tools and principles of manifesting.
"Reem shares her own journey, challenges, gifts, and humor. She explains different, unique, EASY to understand manifesting tips which can be applied to our everyday lives. This book is written straight from the heart and as a story versus the typical self -help manuals out these days. Great for someone looking to understand the universe, energy, God and more!!!!"
—Amazon review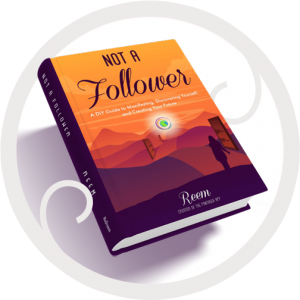 A Muslim born in Kuwait, and a stay-at-home mother of three, Reem is not your ordinary teacher of consciousness and manifesting. Yet, as she travels the world and learns from the most influential teachers and leaders of our time—such as Ibrahim Jaffe, Joe Dispenza, Gregg Braden, Deepak Chopra, Bruce Lipton, Stuart Wilde, and Wayne Dyer—Reem uses her newfound realizations to grow and transform her life. One day, she unexpectedly finds herself downloading an entire blueprint for the Pantagea app—an app with the potential to unite the world.
You already know that your thoughts can influence your life. You understand the value of meditation. Yet, you yearn to connect more with the Divine. In Not A Follower, Reem shows you how to put it all together: how to focus your thoughts, design your morning, talk to God, and bridge the gap between where you are and where you want to be. She shows you how to create your future.
"This book is a beautiful guidebook and blueprint for manifesting. Reem has figured out an amazing method of influencing the laws and energies of the universe."
—Mike Bryan, Olympic Gold-Winning Tennis Professional

Please share your questions, opinions or inspirations with us